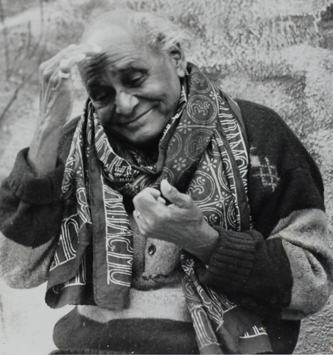 Guru Kudamaloor Karunakaran Nair
(1916 - 2000)
About GURU
''Kudamaloor Karunakaran Nair, the Indian Mei-lang-fan, will remain in the history of Kathakali as the greatest creator of female roles'' - Eugenio Barba
Maryse's master was the legendary guru Sri. Kudamaloor Karunakaran Nair. He has carved a niche for himself across the world with his vivid and imaginative portrayal of various mythological characters. His style of portraying females and brahmin roles has no parallel in the history of Kathakali.
"Kudamaloor is a real phenomenon"
"He was the master who created magic"

Kudamaloor made major contributions to the restoration of Kathakali to its ancient pristine glory. He was also a renowned choreographer.
For 39 years he has been a court artist in the Kingdom of Travancore where he received the highest recognition. He was the principal of the Kudamaloor Kala Kendra Institution and director of the Satsangam International Centre for Art and Culture.
He toured extensively in America and in all countries of Europe up to the age of 86.
A documentary film of his life was made in November 1988 and was selected for the National Panorama of India and for International Film Festivals.
Prestigious Awards & Recognitions:
Kerala Sangeeta Natak Academy Award
National Sangeeta Natak Academy Award
General Council Member - Kerala Sangeeta Natak Academy
Fellowship of Kerala Kalamandalam